In March 2020 I was contacted by one of the administrators of the Vintage Mustang Forums to let me know that my car had been selected as the ride of the month. The following article is what I submitted to them after they selected my car.
---
How can I cover almost 45 years of ownership in just a few paragraphs? I've most likely forgotten as much or more than I actually do remember. I'll just try to hit the highlights and milestones. Writing this brought back a whole lot of memories. Some good, others maybe not so much.
Per the Marti report, my 1967 Mustang Hardtop started out life in Metuchen, NJ, was built on 12/05/1966, was sold on 12/12/1966, and came with the following options:
Raven black exterior
Red interior with standard bucket seats
390-4V engine
3 speed manual transmission
3.25 limited slip differential
Console
Deluxe steering wheel
Power disc brakes
Styled steel wheels
F70-14 white sidewall wide oval tires
Deluxe seat belts
AM Radio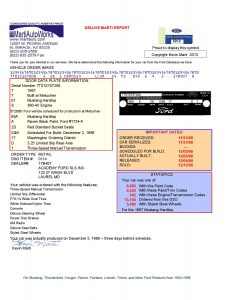 As the car sits now, I have added the following upgrades and modifications:
Factory options
Ford optional instrument cluster with clock, tachometer, and speedometer with trip odometer
Exterior Décor Group option (turn signal hood, trunk and wheel well moldings)
Ford 4 speed toploader transmission
Upgrades and Modifications
Exterior
GT fog lights in grill and GT split exhaust tips
Cibie H4 headlights and relay wiring harness
LED exterior lighting (including Vintage LED tail, park, and reverse lights)
Interior
Under dash courtesy lights
LED interior lighting
RetroSound Model Two radio with Pioneer 6×9 package tray speakers and dual 3.5" dash mounted speakers
TMI trunk carpet kit
TMI one piece headliner
Wesco 3 point retractable front seat belts
QuietRide sound dampener and insulation.
Mechanical/Suspension/Electrical
Hurst Competition Plus shifter
Ford export brace
Sub frame connectors
Bilstein shocks
Holley electric choke
Motorcraft electronic voltage regulator
Crane XR-I electronic ignition conversion
Roller spring perches
Coolant overflow tank
3 wire tachometer conversion
MeterMatch VR (for gas gauge calibration)
The Marti report lists this car as a one of one. I consider it to be more of an unpopular combination of options (390 engine and 3 speed manual transmission) rather than a rare and/or valuable car.
The original owner ordered and purchased this car through Academy Ford in Laurel, MD on 12/12/1966. This dealer is still in business today. I was eventually able to find an old dealer's emblem from Academy Ford which I keep with the car. I did check to see if Academy Ford had retained any records from that time period. The answer I got back was no. While this Mustang has "visited" several other states, it has spent its' entire "life" in Maryland.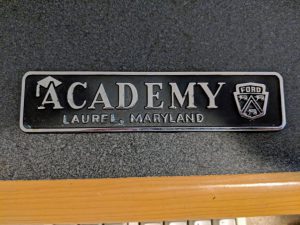 Academy Ford Dealer Emblem
When I turned 16 I knew I wanted a muscle car. I wanted something small and light with a big block engine. At the time, muscle cars weren't very popular as it was the start of the energy crisis of the 70's and big block cars got poor gas mileage. I was searching for a big block Nova, Camaro, Dart, or Mustang. The only thing I could find in my price range was a big block Mustang. It wasn't in very good shape, but I wasn't very knowledgeable about cars and didn't' spot some telltale signs of real problems that would be obvious to me now.
This Mustang was my 1st car and I bought it while I was in high school. I purchased it in Landover MD in 08/1974 from the car's 2nd owner. I drove it regularly (if and when it was running) through high school, college, and after. It was my daily driver from 1974 up until 1987. During that time it was not treated gently. It spent several winters in western Maryland, which sees plenty of snow and road salt. I drove it everywhere, regardless of the weather or road conditions, including some off road excursions. It was driven hard and put away wet, always being stored outside, which certainly took its' toll on the car over the years.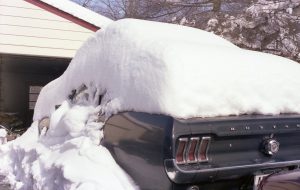 While nearly every part on this car has been replaced at least once over the years, it has never been completely "restored". I consider it to be a "rolling restoration". I have done much of the work on this car myself, with plenty of help from my friends, relatives, and several professional shops for the jobs I felt I couldn't handle. It would be impossible to remember and detail every repair I made to the car over the years, such as multiple clutches, brakes, and floor board rust repairs, but I feel like what I am about to discuss are the highlights and milestones. For the entire time I've owned the car I've kept detailed lists of what repairs I needed to make, what order I needed to do them in, and what parts I needed to purchase. Even during the times that the car sat idle in the driveway I was always planning the next projects and repairs I wanted to undertake.
After purchasing the car, in typical teenage "I know everything" fashion, I took it upon myself to start repairing things, even if they weren't really broken. Eventually I decided to rebuild the engine. I used the old Ford Muscle Parts book to select an engine combination. I rebuilt it myself on my garage floor with the help of some friends. Somehow the engine actually ran after I was done with it.
The car had its' fair share of rust, so the body was the next larger project I chose to address. I discovered that the front fenders had rags stuffed into rust holes that were then covered up with body filler. One of the rear quarters was pretty much made of body filler and both of them were badly rusted. It's hard to imagine a car could be that badly rusted after only 7 years. I replaced the fenders and then had a local "Mustang restoration shop" replace the rear quarters and patch the rusty floor pans. After their 3rd attempt at repairing the car I ended up with rear quarters that didn't align with the trunk lid and that started popping back off after a few months. I wasn't happy. The shop didn't stay in business much longer after that.
A friend worked at a local golf car repair shop that had their own paint and body shop. Some of his coworkers in the body shop agreed to repair the botched body work and paint the car. I decided to build a GT clone and had them paint the car and install the new trim and stripes. Here's how the car looked after they finished. It wasn't a perfectly flawless show car quality paint job, but I was very happy with it.
These pictures were taken in 1980. The car was painted in the late 1970's.
Now that the paint and body were done, I needed to address the ripped upholstery and worn out carpet. I performed all of the interior work myself, including replacing the seat covers, painting the dash and doors, and either replacing or reconditioning just about every interior part.
At this point I daily drove the car again for several years. Eventually a fluid leak at the back of the transmission that I failed to address caused the 3 speed to run dry and lock up. This was fairly dramatic since it occurred while I was driving at about 50 mph. The back wheels locked up and I was driving sideways down the road. I managed to disengage the clutch and coast to a stop. At this point the car was stuck in first gear, so I limped the rest of the way home by accelerating in 1st gear, disengaging the clutch and coasting until I needed to accelerate in 1st again. Rather than rebuild the 3 speed, I installed a top loader 4 speed and a Hurst Competition Plus shifter. I did save the original transmission and shifter "just in case". It's still sitting in a corner of my garage.
Eventually I got the high performance bug again. I pulled the original engine and stored it in my parent's garage while I swapped in another 390 with a 428 crank, 428 CJ heads, and a factory triple two barrel intake and carbs. Unfortunately just after I installed the engine and before I could even start it somebody stole the intake, carbs, and valve covers right off of the car. Whoever stole it did it in broad daylight while I was at work and the car was parked in my driveway. I was able to purchase replacements and did eventually get the engine running.
These pictures were taken just before I installed the engine and the parts were stolen off of the car.
I continued to daily drive the car. At some point I got the urge to return everything on the car to factory stock, along the lines of a concours type restoration. I found a local engine shop with what I thought was a good reputation. I dropped off the original engine which I had squirrelled away and requested a pure stock rebuild. After the engine had been in the shop for several months I was told the rebuilt engine was almost ready. I quickly pulled the stroker motor, rebuilt the front suspension and steering, rebuilt the brakes, and replaced all of the brake and fuel lines. Unfortunately the shop didn't complete my engine for another 4 years after that. In the meantime the car just sat. I got married and started a family. I ended up buying a new car so that I could have a daily driver.
I did finally get the rebuilt engine back and installed in the car. At this point the car had been sitting out in my parent's driveway for 5 years. It had a leaky cowl and rusted floorboards again, as well as a few rust spots on the doors and rockers. I had another Mustang restoration shop repair the cowl and rust. They were preparing the car for paint when they suddenly decided they weren't going to work on my car anymore and demanded that I get it out of their shop immediately. The car was now running and drivable again, but at this point in time I had a wife who had no interest in cars and two young boys who also had no interest in cars. I was able to drive the car enough to get it home and break in the new engine. Then the car sat for another 15 years. At least I had a garage to keep it in this time. The car would have to wait until I retired before I would be able to get back to work on it.
Fast forward from the late 1990's to 2012. As my retirement date grew closer I started purchasing and storing away the interior, trim, and mechanical parts that I knew I needed to complete the car. The detailed lists I had been keeping all these years helped me keep track of what parts I had, what I still needed to purchase, and what repairs were required. I had been collection parts for a long time prior to this. Some of the parts had been in storage in my basement since the 1990's.
Once I actually retired in 2013 I started working on the car again after 15 years of sitting in my garage. I decided to abandon my plan to do a concours restoration. My plan now was to build a well sorted driver with a driver quality paint job and some modern conveniences and safety items. One that would look decent, work reliably, not be something I would be afraid to drive whenever I wanted, and especially, not break the bank.
My wife insisted I have the car looked over by a professional once I got it running to make sure I wasn't going to kill myself. I re-joined the local Mustang club and found a member, Val, who was very experienced at working on vintage Mustangs. Val even encouraged members to come to his shop and learn how to repair their Mustangs. He agreed to go over my car and ensure everything mechanical was in a safe operating condition, as well as allowing me to assist when I was available to come to his shop. The only hitch was that he had a fairly long waiting list. I said I would continue to work on the car until he was ready to help me out.
While I waited for my appointment with Val, I started by replacing the fuel tank and cleaning out the fuel system. I got the engine running again, which half surprised me because I had not prepared it in any way to sit for 15 years. I made some additional repairs and got the car ready for a test drive around the neighborhood. That's when I found the car had no brakes. Even though every part of the braking system had been brand new when I stored the car, sitting for so long had ruined the master cylinder, power booster, and the flexible brake hoses.
By this time Val was ready to look at my car. I backed the car out into my driveway in preparation for Val to tow it to his shop. I think the car blinked and squinted because it hadn't seen sunshine for so many years. Here's how the car looked when I backed it out of my garage after sitting for 15 years.
Val towed the car to his shop and he carefully inspected the brakes, steering, and suspension. I also had pointed out some rust I had discovered that he agreed to repair. After his inspection he found one more rusted area he would repair as well. When all was said and done, Val had repaired the brakes, rebuilt the rear end, replaced the exhaust, replaced the rear springs, replaced the rusted clutch that was chattering, fixed some rusted body panels, replaced some bushings in the steering, and aligned the front end. He took a few pictures of the work in progress.
Once Val had finished with the car, I gassed it up and made the 70 mile shake down drive back home from Val's shop. I was pretty excited to drive the car again after all of those years. I intentionally drove it over many of the same roads I used to frequent back in the 1980's. I was pretty surprised at how much better the car handled than I remembered. Val had said my caster and camber were way out of whack, with the toe in set way off in an attempt to compensate. I had just gotten a very clear demonstration of what a difference a proper front end alignment makes.
Once I had the car back home, I contacted several local body and paint shops to get estimates for painting the car. Even though I stated up front that I wanted a driver quality paint job and not show quality, and that I would remove and install all of the trim and weather stripping, the estimates were in the $10,000 to $20,000 price range. And that was from the very few shops that were even willing to paint a car. Most just wanted to focus on insurance work. The rest only wanted to do show quality paint jobs since their name was going to be associated with the finished product. At this point I decided to move on to the interior while I continued to research paint work.
I completely gutted the interior of the car. I stripped, primed, and painted the dash, doors, and quarter trim panels. I installed sound deadener and insulation throughout the interior and trunk. I installed new seat foam and reupholstered the seats. Since my seat belts were in pretty bad shape, I replaced them and installed 3 point belts in the front. My console was pretty badly cracked, so I located a used base, refinished it in red, and transferred all of my old console parts to the replacement base. I replaced my instrument cluster bezel. Then I reassembled the interior with all new or reconditioned parts. I felt it came out pretty well and I have received compliments at the shows I've attended.
After speaking with Val again, he was able to recommend a local painter who did driver quality paint jobs for very reasonable prices. I contacted the painter who looked my car over and gave me an estimate of $2600 to paint the car. He stipulated that I would have to remove and reinstall any trim and weather stripping, and it would not be a show quality paint job. That was exactly what I was looking for, so I agreed to have him paint the car. That was on a Wednesday. He had me bring the car back the following Tuesday, and after two weeks I drove the car home with a new shiny black paint job with a red pin stripe. After paint was completed, I re-installed all the exterior trim and weather stripping, and cleaned and repainted the wheels, which are the original riveted wheels that came on the car from the factory.
Here's a couple of pictures of what the car looked like the day I brought it home from paint and before I put the trim and weather stripping back on.
Now I only drive the car for pleasure rides and to car shows and cruise-ins. I've even managed to take home a few trophies. But work on the car never seems to be finished. There are always a few issues that crop up from time to time, or upgrades I want to make. I try to save up all of the modifications and repairs for the winter months so I can minimize any down time during the spring, summer, and fall. For example, this winter I replaced the driver's door latch and window regulator, adjusted the passenger rear quarter window, installed a MeterMatch to calibrate my gas gauge, and installed a coolant overflow tank.
At this point I have a nice looking, well sorted, driver quality car that I can jump in and take on a cruise or a longer drive at a moment's notice. I attend a number of shows each year, and try to choose shows located close to where some of my friends live. That way I can visit with friends after the show ends. My 89 year old mom has ridden shotgun with me to Cruisin' Ocean City, which is about a 170 mile drive each way. She doesn't complain about the car and always seems to be enjoying herself. Some people tow their cars to that show, but I built my car to be driven. We are already registered to go again this spring.
Here are some pictures of how my car looks now.