So now it was time to go car shopping. I had some money saved, and it was burning a hole in my pocket for a muscle car. I knew I wanted a small car with a big engine. I had some general ideas. Now to search the local classified ads for a likely candidate. There used to be a newsprint magazine published weekly called The Advertiser. I don't know if they still publish it or not, but it was always filled with ads for cars and car parts. I dutifully purchased this treasure trove of automobile listings every week and spent a considerable amount of time sifting through the car ads. It seemed that the big block Dodge Darts were pretty much non-existent. Big block Novas and Camaros were hard to come by and out of my price range when I did find them. And big block Mustangs were only slightly more common than their Dodge counterparts.
Reminiscing about looking through the classified ads reminded me of one ad I looked at but could only dream about. My friend Jack (the one with the Dodge Coronet) showed me an advertisement he had. It contained cars that to us dreams were made of. A company in Long Island, New York called Baldwin Motion used to advertise brand new big block Novas, Camaros, Chevelles, and Corvettes. But these were no ordinary brand new muscle cars. Not by a long shot. They were brand new, built to order, custom modified, fire breathing versions of these cars. They even included a written, money back performance guarantee. Their phase III cars were guaranteed to run at least 120 mph and 11.50 in the quarter mile, provided they were driven by an approved driver on a sanctioned drag strip. For me and a few of my friends this was something to drool over. But of course they were priced way beyond what meager funds I possessed. These cars are collectors items today and extremely valuable. The company still exists, and is still doing what they are known for, creating built to order, tested and proven cars for performance enthusiasts. You can find more info on their website. Here's one of their ads for the Phase III Camaro.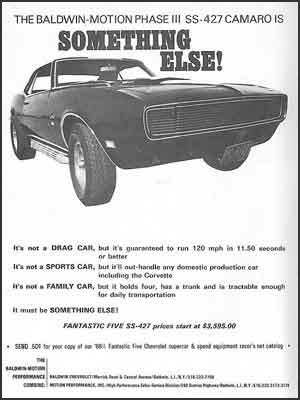 My search wasn't going quite as successfully as I would have liked. My friend Jim suggested I consider Ford Fairlanes that came equipped with the 390 engine. He even had a mechanic friend of his inspect one for me before I went to look at it. It was a red 1966 Fairlane GTA. The A in GTA meant it had an automatic transmission. Jim's friend looked the car over and the only item he found was that the car needed a new starter. Sometimes it would start and sometimes it wouldn't. Knowing what I do today that is a pretty easy fix. But at the time to me a car that wouldn't start consistently was a pretty big deal. So I let that one go, even though it was most likely a much better buy than what I ended up with. The paint was pretty faded but other than that it looked very much like this.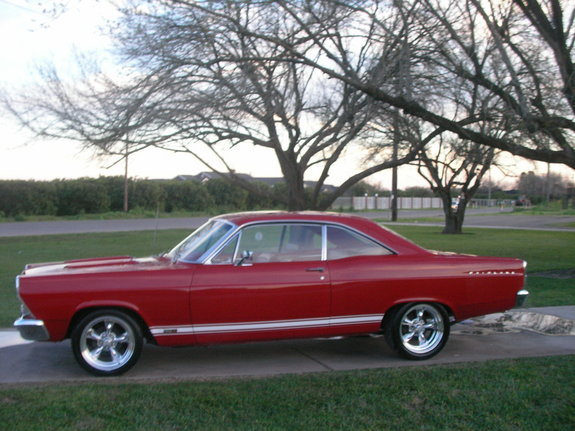 The next car I looked at was a green 1967 Ford Fairlane, similar to the red one I had just looked at. It wasn't a GTA, but the owner said it had a 427 engine in it. I remember it had a hood scoop that went the full length of the hood. I don't remember if it was supposed to be the original engine or not. If it really was an original 427 Fairlane that was a fairly rare car, as very few were ever ordered with that engine. I vaguely remember checking the VIN number, but I'm not entirely certain that was the case. So it may or may not have been an original 427 Fairlane. The issues with that car were that the hood and the gas pedal weren't bolted on. So I was not able to test drive the car. That pretty much put an end to that purchase. And in case anybody is wondering whether the engine really was a 427, all I can say is that the block did have the cross bolted mains unique to the 406 and 427 Ford engines. The heads of the cross bolts were visible on the side of the block. I knew enough to look for those bolts, but I didn't know much more unfortunately. The car was a dark green and looked pretty close to this one.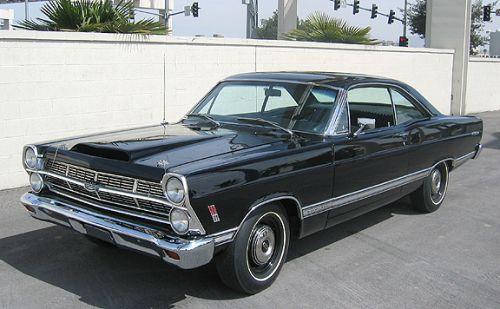 After weeks of searching I came across an ad for a black 1967 Mustang coupe with a red interior, 390 GT engine, and a 3 speed manual transmission. At last, something that matched my original criteria. I got very excited and rushed over to look at it. It was being sold by Frank who lived in Landover, MD. On my first look I saw a black 1967 Mustang coupe with the factory styled steel wheels and bald tires. The paint was original in some areas and some sections had been repainted in a less shiny black. A white tape pinstripe followed the contours of the front fenders and swept back across the doors and onto the rear quarter panels. The right front fender showed what looked like some body damage that had been repaired. And opening the hood revealed an original 390 GT engine. It had a chrome top on the original air cleaner and the factory chrome valve covers. The man selling it was quick to point out it had a "Harley" carburetor and mufflers that made it sound "bad". He meant Holley carburetor, which was what came originally on this engine. I was ecstatic. This was just the car I was looking for. I asked if I could test drive it. He said he would take me for a drive. It accelerated pretty well and rode fairly smooth. There was a groan whenever he made a left turn, but I didn't realize what that could mean about the health of the car. I just knew this was the car I wanted.
I was pretty much sold on this car, but there were a number of warning signs that if i had been more experienced would most likely have been telling me to either get out of there now or make a much lower offer than the asking price. He wouldn't let me drive it. It groaned in the front end when turning left. This turned out to be a badly bent left front outer wheel bearing, which after I discovered it necessitated replacement of both the bearing and race. Both front fenders were rusted and had poor quality patches over the rust. It turned out to be old rags stiffed into the rust holes and covered over with some type of plastic filler. The rear quarters were almost completely covered over with a very thick coat of plastic filler. I mean somebody had created quarter panels out of filler it was so thick. The right front fender had some very crudely repaired accident damage, again including a thick coat of plastic filler. Large sections fo the car had been repainted, and repainted badly. This included the trim and emblems on the fenders which were now flat black. The original steering wheel was in the trunk and had two of the three spokes broken off near the center hub. Somebody had attempted to weld them back on but they had broken off again. The back of the hood didn't align properly as it stuck up too far. And the trunk hinges were badly bent and the spring mechanism that holds the trunk open was missing. I did notice several of these things, but youth, ignorance of what these warning signs meant, and my unbridled enthusiasm got the better of me. I bought the car, but agreed to let the gentleman deliver it to my home for me. My search was over. But i had no clue what I had gotten myself into. But I would soon find out as my problems began before I was even able to drive the car.
Unfortunately I have no pictures of the car in its' as delivered condition.