Since the car was now pretty much cleaned up and ready to go, I decided to take it to one of the local car shows. The show was held at the Adventure Park U.S.A, which is a small amusement park targeted at younger kids. It has facilities for birthday parties, and my kids had several parties there when they were younger. The car show is held in the parking lot, is open to all years, makes, and models, and is free to the general public. I entered my car in the 1950 to 1969 stock class. There were a number of other entries in that class, some of which were not what I would call stock. The quality of most all the cars was high and the people were really friendly.
When I arrived I was directed to park my car near a really nice looking 1950 Oldsmobile. I noticed it was parked near a very small island in the parking lot and the owner had set up camp there. That was really smart thinking and I made a mental note to look for strategic parking locations at the next show I attend. The owner of the car was an extremely nice gentleman in his 80's who did all the work on the car by himself except for the body and paint work. What really caught my attention was that the transmission, which was original to the car, was a 4 speed automatic. For a modern car that is nothing special, but for a 1950's vintage car I thought that was exceptional. I spent quite a bit of time chatting with the owner and really enjoyed our conversation.
Here's a picture of the 1950 Oldsmobile.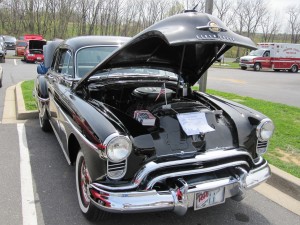 Another gentleman I met owned a 1960 Cadillac El Dorado. He spent some time explaining the restoration process for that car, and informed me that just the interior alone had cost him $10,000. I could believe it considering how much leather it must have taken to cover the huge front and back seats, along with the door panels and the rest of the interior trim panels. That car was huge. It had been updated with modern running gear, steering, and brakes. I'm not sure how the car ended up in the stock class, but it was a really well done car. It won both 1st in class as well as best in show. Here's a picture of the car.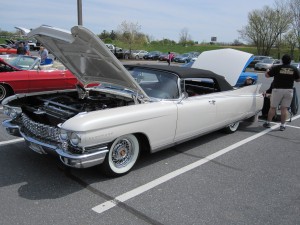 The judging was done by the entrants themselves, where each entrant selected and voted for the car they felt was the best in each class. Much to my surprise, my car won 3rd place in its' class. I had no expectations of winning a trophy, and there were at least three cars that I felt were better than mine. As an added bonus I won a raffle for a bucket full of car care supplies. That more than reimbursed me for my entrance fee. All in all it was a really good day, and i can't wait to attend another show.