At this point I was happy driving the car around as it was. I was enjoying the car but there wasn't anything really significant to discuss. So we need to fast forward the story several years. But before I get back to my car, I have another friend's car to mention.
My friend Jimmy had always wanted a 69 Charger. For anybody not familiar with a 69 Charger, it is the car that was the star of the old Dukes of Hazzard TV series. Jimmy wanted one of those cars, but not painted to look like the TV car. I remember searching through the want ads at his house trying to help him find a car for him to fix up. He eventually found one and bought it. Since he was employed at a Dodge dealership, he had access to parts, equipment, and people with the knowledge of those cars. He had a 440 engine built for it along with an A727 automatic transmission. He put in 3.91 gears, had the interior redone, and painted the car red. I think it looked better than a Dukes of Hazzard car could. Here's a picture of Jimmy's car. As far as I know he still has it. Maybe more to come on that in another blog post once I get back to work on my car.
One evening on my way over to Jimmy's house I was involved in a minor accident. Some damage to the front bumper, grille, and hood. Nothing that couldn't be fixed, but it was fairly upsetting at the time. Here's a picture after the accident showing some of the damage.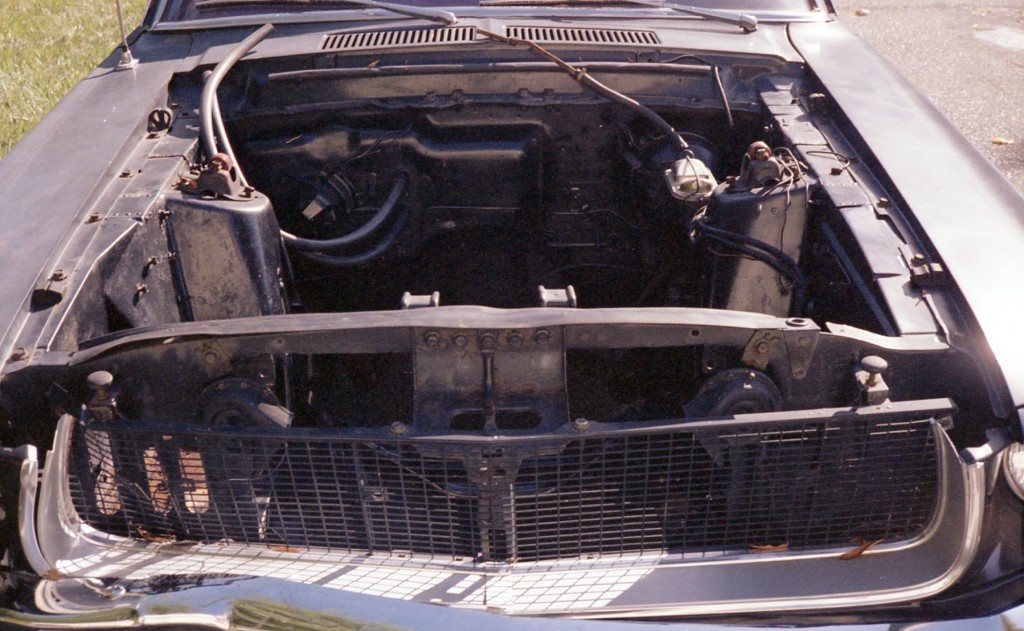 One thing you might notice is that there is no engine or transmission in the car. That's because I had already been planning an engine upgrade before the accident occurred. I had a 428 crank, Mercury 410 pistons, 428 CJ heads, and an old tri-deuce intake manifold and carburetors. I was building what today would be called a stroker motor. The 428 crank combined with a 390 bore resulted in 410 cubic inches. The 428 CJ heads flowed a bit better then the 390 GT heads I had been running. I had the machine work done on the parts at a local machine shop. Then I bought a clutch and flywheel and had the engine balanced. After that I assembled the whole thing in my parents garage. Here's a couple of pictures taken just prior to installing the engine in the car.
Unfortunately just after I had everything installed but before I had even been able to start the car the intake and parts of the valvetrain were stolen off of the car. This happened on a week day while I was at work. Nobody was ever charged with the theft, but I have an idea who did it. I ended up getting very little from the insurance company, and spending a lot to replace the parts. Unfortunately the replacement manifold didn't fit very well and leaked oil from the back of the intake. This contaminated the clutch enough that it never really ran as well as I would have liked. It was still a lot of fun seeing the looks on people's faces when I opened the hood.